Friday was a good day. Now, Fridays is general are typically good days. End of the work week for most. Pay day for some. And, hey, you hear Friday and you can't help but smile. It's like saying BACON or COFFEE!
But why was Friday good for me?
Well . . .
I got a brand new sweatshirt that I absolutely love!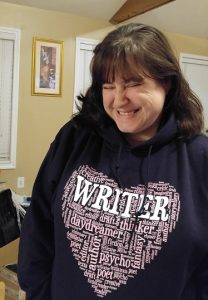 And it arrived 30 minutes before this happened . . .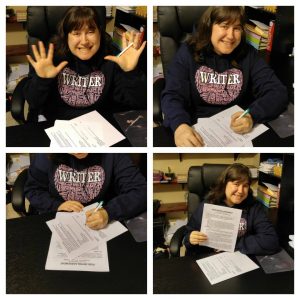 That's right. I signed a 3-book contract with Elk Lake Publishing. I pitched to Deb Haggerty at the Realm Makers conference this summer, sent her Aletheia in August, and now here we are! She's taking on the whole Aletheia trilogy. Yay!
On top of that, I found a new social media client and a potential editing client.
People, God is GOOD. All the time.
He SEES our needs, and He PROVIDES. Maybe not in our timing or in the way we had thought He would, but He is still provides.
I've been on cloud 9 ever since signing the contract. And completely terrified. Just so you know.
What did I do after signing and posting on social media?
I sat at my computer, listening to YouTube videos with my gal pal, J.L. Mbewe, trading videos and jokes. We were jamming while I celebrated with a little bit of mint chip ice cream (coconut milk). Meanwhile, doing some Realm Makers planning, some surprise planning, and then rockin' this blog post. Right now, Mandisa is beltin' it out in Toby Mac's "Lose My Soul."
But I kicked it off with my title video of the year.
Now for a PARTY!

Awhile back, my friends (Amy, Desiree, and Jennette)and I started a little group we called "Ladies of Spec," to share our publishing journeys together. And now we're celebrating 2 of our favorite things: FALL and BOOKS!
Join us next Thursday at 8:30 EST for a couple of hours of fun, conversation, and prizes!
Ladies of Spec Fall into a Speculative Adventure Facebook Party
So, what are YOU up to this weekend?