BELLANOK: THE RELUCTANT SAVIOR
I'm so excited to announce that Bellanok is officially available in physical book form. Yes! One for your bookshelf! One for your local library! One for your fellow fantasy lovers for Christmas!
This has been a long-time coming. And I am ever so thankful for all the love and support from family, friends, and fans. But most of all for God giving me this gift, this passion. This is truly a dream come true!
Before you hop over and purchase several copies for you and everyone you know, check out this fun book trailer from Amaeris Designs Productions.

Need an escape this weekend? Ready for a fantasy adventure? You can see a full description of Bellanok, as well as blog tour information, in My Books. But you know you just want to hop over and buy now! (Available for Kindle AND in paperback.)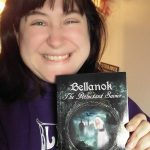 If you'd like to follow along as I work on releasing another 3 books (also fantasy) through Elk Lake Publishing over the next couple of years, be sure to sign up for my newsletter!
And if you want to join in launch time fun and get to know a few other ladies of spec, as well as other spec readers, check out the Ladies of Spec Readers Group!