I know, I know–y'all have been patient, but you have been waiting . . . and waiting . . . and waiting. Well, my friends, wait no more!
Bellanok: The Dragon's Oath is finally here!
But, first, I'll be your ready to see the new cover. Well, you voted, and I'm happy to say you went with my favorite as well. Here is the cover for the 3rd novella in the Bellanok series: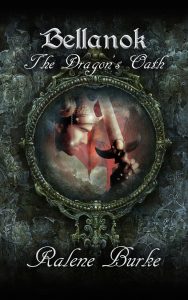 What do you think? Beautiful, right?
Looking for a little info about this part of the story? Here's the blurb:
The adventure continues!
Brian is in over his head as he bumbles around Bellanok, trying to learn what it means to be a paladin. Whether he's sword training with Roman or calling down holy fire with Fauna, he just can't seem to get anything right.
At the same time, Fauna is struggling with her inability to communicate with the Creator and what this could mean for the future of Bellanok.
Will they be prepared for what is to come? Or will Bellanok fall prey to the demons at its coast?
Now, I hope y'all will take the time to hop over and purchase Bellanok: The Dragon's Oath as soon as you can. And, please, feel free to leave a review when you're done to let other people know how much you enjoyed it. (Cause I know you will!)
Haven't read the first two yet? No worries. Guess what? THEY ARE BOTH FREE THIS WEEKEND! Starting tomorrow (Saturday, May 7) through Sunday night. Get ready for a journey to an island far, far away–and yet so very near.
Bellanok: The Reluctant Savior
And if y'all wouldn't mind sharing this post across social media, I'd appreciate it! 
Don't miss the exciting conclusion to the story! Subscribe to my blog/newsletter and be the first to know!