Armor of Aletheia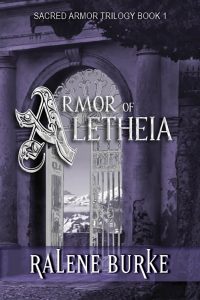 A world in danger,
A betrayed queen,
A reluctant hero …
The death of her king changes Karina's life forever. Fleeing the royal house, she
must leave her life behind to seek out the Armor of the Creator—to save the very
people who now hunt her.
Faramos, the evil warlock waiting to unleash hell, knows the Creator has already
chosen his warrior, so he sends his bounty hunter to retrieve her. After Tristan
abducts her, he witnesses Karina's gentle nature and strong independence, and he
finds he can't complete his assignment.
Together, they set out to retrieve the armor and defeat the hordes of creatures
sent to destroy them. But is Tristan's heart secure as he faces certain death for
defending the queen? And will Karina have the courage to become all the Creator
intends her to be? Failure will condemn the world to eternal darkness.


Endorsements
In "Armor of Alethia" Ralene Burke has crafted a fast-paced novel filled with surprises that young readers of fantasy and adventure are sure to enjoy. Filled with unique characters, this first installment of the series will be quickly devoured.  ~Patrick W. Carr, Author of  The Staff and the Sword trilogy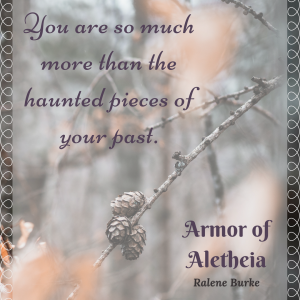 Burke's Armor of Aletheia is a novel that feels at once familiar and new. Fantasy fans will feel right at home in this sprawling adventure, and admirers of Lewis' Narnia will appreciate the allegorical accents woven through the text. This novel of political intrigue, romance, faith, and friendship is rife with memorable characters, a twisting plot, and high stakes.    — Aaron D. Gansky, author of the Hand of Adonai Series
Magic, romance, danger, Aletheia has it all. This fantasy by Burke follows the traditional fare the likes of J.R.R. Tolkien and Terry Brooks. Fantasy fans, you don't want to miss out in this one! ~Morgan L. Busse, award-winning author of the Follower of the Word and The Soul Chronicles.
Want to see some of the inspiration behind the amazing people, places, and creatures in Armor of Aletheia?
Be the first to know about future releases by signing up for my newsletter! You'll get my monthly newsletter (plus occasional announcement emails), which focus on encouragement, speculative fiction, and all things that #SHINEBeyond!