by Lindsay Franklin
My name is Lindsay, and I'm an Elf on the Shelf mom. This is where you all give a resounding chorus of "Hi, Lindsay!" and then we discuss the tribulations of recovering from shelf-elfdom.
Except I'm not in recovery. I love my elf. Her name is Wendy, and we have excellent adventures together. Like this one: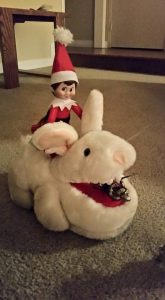 That was the time Wendy hopped in my Rabbit of Caerbannog slippers and terrorized the boys' knight figurines. Or there was this one: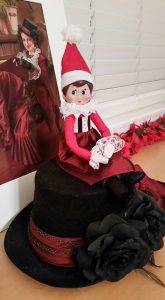 That was when Wendy wanted a steampunk costume just like mine.
Last year, Wendy got super lonely and joined ElfMatch.com (no, it's not a real thing). She met some interesting characters during her online dating escapades.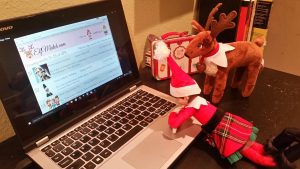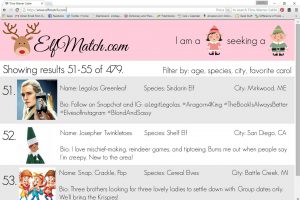 But then she met the love of her life, Josepher Twinkletoes.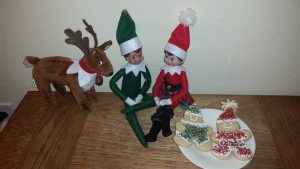 And on Christmas morning, they made it official.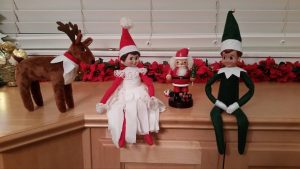 Not only do my kids have Wendy and Josepher's antics to look forward to now, but Josepher's little sister, Julee, moved in, too. Our house has turned into an elf party this December. Okay, so maybe I do have a little bit of a shelf-elf addiction. Either that, or I really love to tell stories. We'll go with the latter.
So, what's my confession? Aside from the fact that the whole world now knows I'm a little nuts … Shelf-elf haters bum me out. For every one social media post I see from a shelf-elfing parent, I see five or six people talking about how much they hate Elf on the Shelf. I've even seen suggestions that parents who "inflict" EOTS on their children are bad parents (see also: Santa Claus). Hopefully these things are said tongue-in-cheek, but still. It stings a little when you're an enthusiastic EOTSer and your own friends loudly voice such opinions.
Here's the thing: There are innumerable holiday traditions spanning most cultures across the globe. No one family participates in all of them. And that's totally okay. It's okay if going caroling is something you can't imagine skipping. It's also okay if you wouldn't be caught dead singing to strangers in freezing weather. It's okay if there's that one cheesy Christmas movie that absolutely makes the season feel right to you. And it's okay if that same movie makes another person want to take a nap.
There's no single correct way to celebrate the fun, sometimes silly, traditions surrounding Christmas. There's only what your family enjoys, and each family's unique culture leads to gloriously different incarnations of the same traditions, as well as eschewing some traditions altogether. My EOTSing doesn't look quite like my friends', but I love to see what mischief their little guys get into. And I love to see my non-EOTS friends celebrate in their own special ways. Tree-cutting and trimming, outdoor light displays, candlelight church services, over-the-top décor, subtle décor, even no décor and a more solemn take on the season.
My Christmas wish? That we allow our friends (and strangers) the space to enjoy the holidays with their families the way they deem best. Because it's all just fluff surrounding the core of Christmas—and that core has nothing to do with trees, tins of cookies, twinkle lights, or Toys R Us. So why hate on each other's traditions? Ain't nobody got time for that sort of Christmas negativity.
What is your family's favorite Christmas tradition?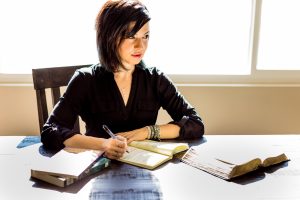 Author Bio:
Lindsay Franklin is an award-winning author, freelance editor, and homeschooling mother of three. Her debut fantasy novel and first book of devotionals for young women both release in 2017. She managed the flash fiction mayhem for two years at Splickety Publishing Group as Senior Operations Manager, is a Bible college student, and has taught fiction to homeschooled junior high and high school students. She may or may not be addicted to organic coffee. Don't tell anyone. Connect with Lindsay on Facebook, Twitter, Instagram, or her website. You can also follow her wombat on Instagram. Yeah, you read that right.