You know that person that can make just about anyone smile? We all have at least one of those in our lives. Well, I'm happy to share one of those people with you today. You might remember her Confessions post from a couple of weeks ago, but it is my pleasure to introduce you to Michele Harper.
AUTHOR BIO: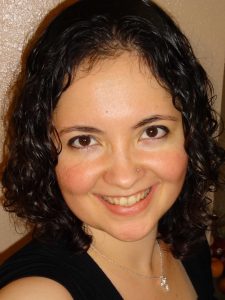 Michele Israel Harper spends her days as a stay-at-home mom and her nights typing away furiously on her laptop. Sleep? Sometimes… A member of the Heartland Christian Writers, American Christian Fiction Writers, as well as the treasurer for the Indiana chapter of ACFW, Michele has her bachelor's degree in History and can most often be found with her nose in a book when not chasing her two rambunctious boys or cuddling her new baby daughter. Visit her website at www.MicheleIsraelHarper.com to learn more about her.
I met Michele last year after she read Bellanok and went ga-ga over it. She seriously made my day. We became friends on Facebook and were getting to know each other when I got to meet her in person at a local ACFW event. Turns out, she had a couple books out too. Here she's signing one for me!
Michelle is just a joy to know! And even being a mom and wife, she still is an editor, publisher, & author. Amazing!
And as an author she just released another book: Zombie Takeover.
Check out the blurb: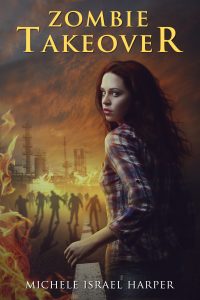 I was the bravest, fiercest warrior, singlehandedly stopping the zombie apocalypse and earning the respect and admiration of those who fought with me. Just kidding. I pretty much peed my pants and wasted a ton of ammo. At least everyone else shot what they were aiming at. Me? Not so much. This is my story—me, Candace Marshall, the world's biggest scaredy-cat, facing my biggest fear. Zombies. It was awesome. (As in, not at all.)
Candace Marshall hates zombie movies. She hates anything scary, in fact. In his usual, notso-thoughtful way, her boyfriend surprises her with advanced screening tickets to the latest zombie flick, complete with interactive features and a tour. She refuses to watch it, but it doesn't matter. Horror becomes reality when an experiment gone wrong transforms her peaceful town into a mess of slathering zombies. Thrown together with the only other survivor, Gavin Bailey, her favorite actor and secret crush, she somehow fights her way through the mess, making plenty of blunders and surprising herself with … courage?
Here are the buy links:
Amazon: http://amzn.to/1Yo9yUf
Barnes & Noble: http://bit.ly/1U9F2NV
iBooks: http://apple.co/1S2Xr7E
Kobo: http://bit.ly/1Ugurhl
Blog Tour
Michele's hitting celebrity status–she's even got her own online tour! Ha! Just kidding. But if you're interested in some insights, interviews, etc., check out the rest of her tour!
Thursday, July 7th: Amy Brock McNew (www.AmyBrockMcNew.com) Interview
Friday, July 8th: Kristen Stieffel (www.newauthors.wordpress.com) Guest Post
Saturday, July 9th: Laurie Lucking (www.landsuncharted.com) My Top 3 Spec Fic Picks
Sunday, July 10th: Robin Pack (www.snippetsoffaith.com) Book Review
Monday, July 11th: Robin Scobee (www.quillsandinkblotts.blogspot.com) Book Review
Tuesday, July 12th: Michele Israel Harper (www.MicheleIsraelHarper.com) Release Day Feature
Wednesday, July 13th: Jennette Mbewe (www.jlmbewe.com) Book Launch Fun Post
Thursday, July 14th: Shayla Eaton (www.curiouserediting.com/blog) Review
Of course, you can find Michele on social media too . . .
Social Media Links:
Facebook: https://www.facebook.com/love2readlove2write/
Twitter: https://twitter.com/razersj
Goodreads: https://www.goodreads.com/author/show/14554353.Michele_Israel_Harper
Pinterest: https://www.pinterest.com/razersj/
Instagram: https://www.instagram.com/michele_israel_harper/
Amazon Author: http://www.amazon.com/Michele-Israel-Harper/e/B016YW4Q6Q
I love sharing new books with you guys and introducing you to my friends.
Do you have any questions for Michele about being an author or about Zombie Takeover?