I am so excited to share the news with you all! My dear friend and fellow fantasy author, J.L. Mbewe, is FINALLY getting ready to release the 2nd novel in her trilogy. Today, we're doing a cover reveal.
I've read the first book, Secrets Kept, some time ago, and really enjoyed it. The world of Nalu is well thought out and the story engaging. There's also quite the interesting spread of characters. You should check it out (link at the bottom–only 99 cents today).
Darkened Hope Blurb:
Ayianna is a cursed half-elf betrothed to Desmond, but her heart belongs to another. After discovering the cure for the Sorceress's curse, she and her companions embark on a dangerous quest to retrieve the ingredients.
When dragons descend upon their party, Ayianna realizes the Sorceress is searching not just for the corrupted dagger, but a human sacrifice that will open a portal to the underworld. Battling deadly creatures and natural disasters, Ayianna is forced more and more to confront her insecurities and conflicted heart.
Now she must decide whether to be true to her family or true to herself. As the nations rally for war, betrayal threatens to destroy them all, and it's a race against time to return before the curse devastates the plains people.
Coming in May 2016
Author bio:
Writing as J. L. Mbewe, Jennette is an author, artist, mother, wife, but not always in that order. Born and raised in Minnesota, she now braves the heat of Texas, but pines for the Northern Lights and the lakes of home every autumn. She loves trying to capture the abstract and make it concrete. She is currently living her second childhood with a wonderful husband and two precious children who don't seem to mind her eclectic collections of rocks, shells, and swords, among other things. Here, between reality and dreams, you will find her busily creating worlds inhabited by all sorts of fantasy creatures and characters, all questing about and discovering true love amid lots of peril. She has two short stories published in The Clockwork Dragon anthology, and four short stories set in the world of Nälu. Her debut novel, Secrets Kept, was nominated for the 2014 Clive Staples Award, and its sequel, Darkened Hope is coming May 2016.
Stay up-to-date with all things Nälu and her journey as a writer mama at JLMbewe.com. Connect with her on Facebook, Twitter, Instagram, and/or Pinterest.
Extras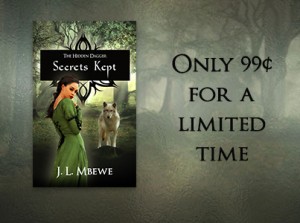 Secrets Kept, the first book in the Hidden Dagger Trilogy will be on sale for .99
http://www.amazon.com/Secrets-Kept-Hidden-Dagger-Book-ebook/dp/B00WBV3WU6
The short story, A Princess No More, will be free.
http://www.amazon.com/Princess-More-Tale-N%C3%A4lu-Book-ebook/dp/B00JWA3CWM