by Victoria Grace Howell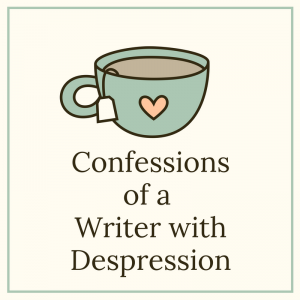 I've been creating stories for as long as I can remember, but I've been struggling with Depression since I was fifteen. I didn't fully understand Depression until recent years when I finally started taking steps to manage it. For years, I didn't know why I would feel sad for days on end or abruptly stop being motivated to do things I've loved or why I was just so darn sensitive.
Depression is a chemical imbalance in the brain. When I get depressed, my thoughts spiral into doubts and kicking myself over every little thing. It's not just feeling sad. It affects my entire body. I've sometimes felt so "down" that it's hard to wake up in the morning, my back and neck hurts, and I lose my appetite. Some of the things I do to feel better are take walks or drink tea with lavender, chamomile or chocolate or watch a favorite TV show. Sometimes writing out my emotions in my stories is therapeutic. All of this in turn affects how I handle life as a writer.
I know I'm not alone. A lot of writers struggle with mental illness. Perhaps some who struggle with Depression can relate to these confessions.
I Have to Take Breaks – I watch writers able to type out thousands of words a day or write every day for a year, and I think that's fantastic, but having Depression makes that hard for me. I can get burnt out so easily if I do that much. I usually have to take a mental health day every week or that can make my depression act up and then I'm out of the game for days.
Sometimes I Have to Take Days Off on Down Days – Sometimes my Depression hits me at times I don't expect. I get so down that I can't concentrate and just uncontrollably think of anything that could possibly be bothering me on repeat. Therefore I need to take an hour or up to several days off to pick myself back up.
It's Very Hard for Me to Develop a Thick Skin for Criticism of My Work – I've gotten so much advice on how to develop a thick skin for critique. Critique is a wonderful tool, but I still procrastinate for days before I read any feedback of my work, because I'm afraid it's going to be bad enough to send me into a spiral of Depression. I usually have to spend a good five minutes or more psyching myself up before opening the document. Then if the critique is bad, sometimes I take a day off of writing to recover to make sure it doesn't cause a down day.
Rejections Hurt A lot – When I see an email from a publisher or agent in my inbox, I feel a rush of cold go down my spine. Then I steel myself for a rejection. I've only gotten one acceptance, so this has happened a dozen or two times. Sometimes I can shrug off the rejection, but it usually sticks with me like a parasite for a day. More often than not I have the battle off feelings of doubt that I'm a good writer. Sometimes I have to take days off writing to make sure I don't get a down day or sometimes because it incites a down day.
I Feel Things Deeper in My Writing – People with Depression feel emotions deeper than the average person. They are more sensitive to feelings of others around them. This in turn can be a writer super power.
This post isn't to ask for sympathy. This post is to come clean about how it is be a writer and live with Depression. I can't just eat some chocolate and feel better five minutes later whenever I start feeling sad after an agent made the decision not to represent my work. No matter how much I wish I could yank myself up from being knocked down as anyone not struggling with depression seems to be able to I can't.
It's not all in my head. It's a real thing that affects me. Depression is part of my struggle, but it helps me relate to my characters who struggle with it. I don't know how long I'm going to struggle with Depression. It could be my whole life. I may have to tweak my schedule a bit to keep it under control, but I won't let it stop me from being a writer.
Have you struggled with depression? How does it affect your writing? What do you do to cope?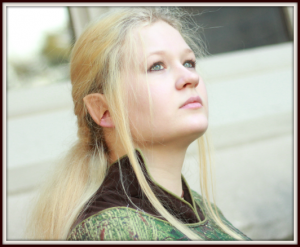 Victoria Grace Howell is an award-winning, author of speculative fiction, a social media manager, an editor for the non-profit organization, Geeks Under Grace, a staff writer for Geekdom House, and has been published in Splickety: Havok Magazine and Area of Effect Magazine. Since she was a child growing up in the state of Georgia, she's always had a heart for stories. When not typing away at her novels, she enjoys drawing her characters, blogging at Wanderer's Pen, practicing Kung Fu, cosplaying, and having a really good hot cup of tea. Connect with her on her blog, Facebook, Twitter, and Pinterest.