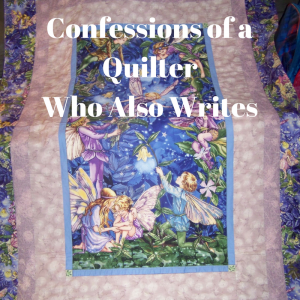 by Pam Halter
I started quilting before I began writing. Both activities give me a creative outlet, but I have to admit, designing and sewing a quilt is much faster than writing a novel. I also write and have published picture books. They're fairly fast to write, although can be tricky to revise.
I confess there are times when I enjoy quilting more than writing. Writing novels is hard work! Let's break it down and compare:
TIME
Sure, there are folks who can hammer out a novel in a month, and maybe I could, too. Except then there's the revisions, which can take the better part of a year. And rightly so. It takes time to know a real person when you first meet them, right? Same thing for your characters. Not so much with a quilt. The quilt I made that took the longest was the labyrinth quilt I made for a friend. I researched designs online, found one that was doable for a quilt, copied it on graph paper and started cutting squares. It ended up taking 10 yards of fabric, all in 3 inch squares. Then I had to sew them together! I sewed every day for about 5 hours a day, 5 days a week, for a solid 3 months! It ended up a king sized quilt, but it was fabulous! I also had researched labyrinths and their purpose. The center is called The Rose, so I put fabric with roses on it in the middle.
My fantasy novel, which will be coming out late next year, took me a good 10 years to write and revise, as I was learning about novel writing. I'm a picture book author! Writing novels is waaaay different. I'm sure the next novel will take less time.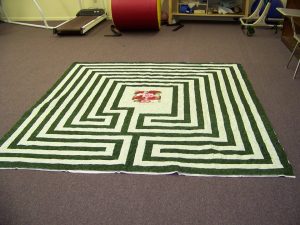 PLOT
As you can tell from the labyrinth quilt, I like to plan and design most of my quilts, although it depends on what's needed. And like the plot for a novel, things have to come together to make a pleasing design. One of my strengths in quilting is taking fabric that doesn't seem like it goes together and finding a way to make it work. Plotting a novel is just like that – but it takes a lot longer. Still, it's so satisfying when it happens! It comes down to what the quilt/story requires. Sometimes, a quilt requires a specific design and detail. Sometimes, it's as simple as using a panel. And sometimes, it comes down to a delightful surprise. Like the Halloween quilts I make. I love quilting a spider web (free hand) over the quilt design. It shows up great on the black back of the quilt because I use white thread. So much fun! Stories need that, as well, but usually, it isn't so easy to plan.
CHARACTERS
When I'm piecing a quilt together, it's important for the fabric to be, at least, compatible. If I'm using fabric that has patterns or designs on it, they shouldn't clash. If they do, and I'm determined to use them, I need to find fabric that joins them together in a pleasing way. And I'm even happier if it's unexpected, but beautiful. Same thing when creating characters in a story. And just like a story has main characters, secondary characters, and cameos, I can do the same thing with fabric. Light, dark, designs, contrast. Squares, triangles, rectangles. Top stitching, appliqué, tie it off. Baby quilts, twin, double, queen, king. So much to choose from! My favorite size is what I call Back-of-the-Couch. It's about 2 yards long and 45″ wide. Perfect for the back of your couch or recliner.
KNOWING YOUR AUDIENCE
Just like knowing and understanding the readers we write for, I also need to know my "audience" when I'm quilting. Well, most of the time, anyway. I pray as I sew. Each quilt I make is prayed over. If I know the person I'm sewing for, I can pray more specifically. If it's for a fundraiser or someone hires me to sew a gift, I still pray. I've been told people can tell when they're under one of my quilts. They feel peaceful. Blessed. Comfortable. That makes me ridiculously happy. When one of my best friend's husband was dying from cancer last year, she told me he could only rest peacefully when covered by the quilt I made him. Yeah. I cried.
All this to say, it typically takes less time to design and sew a quilt than to write a novel and I confess I sometimes wonder if I should stop writing. But I get joy and satisfaction from both. And I believe quilting only serves to help my writing and writing helps me create more interesting quilts. So, I'll still do both.
Any other fellow quilters out there?
About the Author:
Pam Halter was a home-schooling mom for nine years and has been a children's book author since 1995. Her latest picture book, Willoughby and the Terribly Itchy Itch, released in March through Fruitbearer Publishing.
Pam is a freelance editor and the children's book editor for Fruitbearer Kids. She was selected to attend the Highlights Whole Novel Workshop for Fantasy, May 2010, won Writer of the Year at the Philly conference in 2014, and Reader's Choice for her short story at the Realm Makers conference, 2015. She's in contract negotiations right now for a YA fantasy novel, and is waiting not so patiently to announce it to the world!
Pam lives in the farmlands of Southern New Jersey with her husband, special needs adult daughter, mother-in-law, and 2 crazy grandcats while her youngest daughter is traveling the country with the New Life Drama Company. She enjoys quilting, gardening, cooking, canning, crafting, playing the piano, theatre, Bible study, and looking for evidence of fairies.