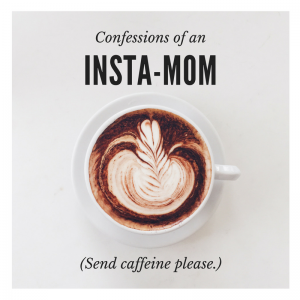 by Tosca Lee
(Stay tuned at very end of post for information about how to win a copy of FIRSTBORN by Tosca Lee.)
Last year, in the space of "I do," I married the man of my dreams, became a farmer's wife and insta-mom of four.
And so this city girl who'd once sworn off marriage and had long given up the dream of children moved out to the farm and into my new family's lives.
My confessions, to this end, are myriad:
I own three crockpots. I'm not afraid to use them all at once.
I now understand why my mom hid her Russell Stover candy under the chair in the living room.
I may or may not have several caches of goodies stashed around the house.
And there might be more hiding behind the vegetables.
I have never downed so many energy drinks in my life …
Or gone to bed before 9:30pm more than once in a single year—until now.
No one other than these kids has ever had the propensity to make me cry with a hug.
This blog was late because I was catching a neighbor's visiting chicken.
I gained 15 pounds last year because of Totino's pizza rolls.
I fantasize about clean refrigerators.
I'm still trying to beat my kids in Black Ops III.
I threw a sweet pass for a TD in last night's football game.
They were right: I can't tell the difference between deer meat and beef.
I keep a list of funny things the kids say to use in stories. Or for blackmail.
My kids are totally unimpressed with what I do for a living.
I had no idea that the treads on the bottom of boys' sneakers were so diversified or important.
Who knew exploding targets could be so fun?
When one of my kids said he didn't want to try brussel sprouts I said that's fine and that I hoped he wouldn't die from rickets. He now loves Brussels sprouts.
When you refuse to teach the kids your secret French toast recipe so you'll always be needed.
When your life is suddenly made because the grocery store delivers to the farm.
The night I saw a tick crawling across my comforter I nearly burned the place down.
I'm ruined for store-bought eggs.
I still aspire to vegetarianism. In theory.
I live in a house of four boys and a dog that drinks out of the toilet. Every time I sit on a wet seat, I don't know who to blame.
I'm the only mom I know who openly weeps when her son runs 50 at trapshooting meets.
I literally had a debate with my son one night about who should run into the possibly skunk-infested barn to grab the raccoon trap to catch a tom cat and who should cover the other with the pellet gun.
My son offered to video me going in in case I got sprayed. "Just think how many views you'd get," he said.
I actually considered it.
I still have not received my motherhood manual from the Office of the Comptroller of Parenthood. I'm flying blind here.
I have now actually seen a piece of lunch meat come out of a kid's nose.
A year later, I still have no idea what I'm doing.
I have never loved life so much.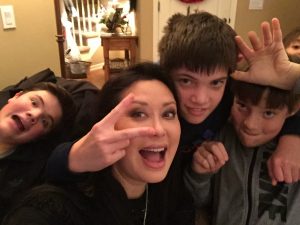 The other day, one of my boys came up to me and handed me a dollar bill. "What's this?" I said, figuring it was something he found in the wash.
"It's a tip."
Me: "A wha—?"
Him: "Because you're doing a good job."
Me: "I do my best, honey."
Him, petting my hair: "You don't need to try. You are."
Oh man. (Also: do I need to report this as income?)
Last week, as my ninth novel released, I spent several hours writing guest blogs, many of which touched on all these life changes. I wrote about being a new farm wife, the grace my kids show me, and boo-hooed through it all.
Probably my biggest confession in this new parenting journey is how much these young faces have become as mirrors to me. By the time I start lecturing one on having patience, I've already lost mine. It's convicting and challenging. And I worry that the one who lost his electronic privileges for the day is going to yell that I'm not his real mom and hate me the rest of his life, but when he emerges later from his room, he pets my hair.
"You're a good mom, Tosca," he says.
I'm not sure if that's a gimme or not, but I'll take it.
About the Author
Tosca Lee is the award-winning, New York Times bestselling author of THE PROGENY, FIRSTBORN, ISCARIOT, THE LEGEND OF SHEBA, DEMON: A MEMOIR, HAVAH: THE STORY OF EVE, and the Books of Mortals series with New York Times bestseller Ted Dekker (FORBIDDEN, MORTAL, SOVEREIGN). A notorious night-owl, she loves watching TV, eating bacon, playing with her kids, and sending cheesy texts to her husband.
You can find Tosca at ToscaLee.com, on social media, or hanging around the snack table.
The sequel to THE PROGENY, FIRSTBORN, is in stores now.
GIVEAWAY OVER!!!
And speaking of PROGENY and FIRSTBORN, how'd you like a chance to win a copy? All you have to do is sign up for my newsletter. That's it. In addition to being entered in the giveaway, you'll get a copy of the first part of Bellanok (my own novel).