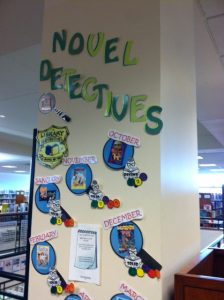 by TLC Nielsen
As I work on my first novel, I can't imagine a more perfect job for an aspiring author than working in the public library. Even though I've been in the children's department for almost 12 years now, my job is still as much fun as it is work. I help children and parents find the perfect books to read. So, shhh, don't tell anyone what I'm about to reveal. Oops, there's no more shushing in the 21st century library!
My Second Home
As a child growing up in rural Wisconsin, I remember our monthly trip to the library. I loved it so much my folks had to limit me to the number of books I could carry! So when my kids were young, I took them to the library, weekly. It was free admittance with music, books, movies and magazines to borrow. We'd spend hours at the library.
Nowadays, the trend in public libraries is to be a gathering place rather than a repository of books. In my kids' department, our staff enjoys creating a place to stay and hangout, whether playing with puzzles, toys and games, doing craft projects or reading books as a family. I spend a lot of time during work grabbing all the books families have left behind after reading. Due to the tendency of families reading books in the library without checking them out, librarians now look past the circulation numbers of books and materials. We look at how many are handled on the premises. The library world runs on statistics, so I do a lot of tallying of interactions in the library – how many times I've helped patrons, how many games/puzzles were used, how many prizes given out, that kind of thing. I must confess, however, that I do wait for them to come and ask for assistance since they may think, like I did, that this is their home away from home.
Because of this second home concept, I don't like enforcing the library's "no eating" rule either. I carry around plastic baggies to save the suckers are so often stuck in the hands of our youngest visitors. With all the toys, games, puzzles and Duplo's being played with in youth services, tidying up is a large aspect of my job, the work part. Good news, though: my library created a tiled area in the entryway with cafeteria-style tables and chairs so patrons can eat somewhere in the library. In essence, the community library is your other living room. Some libraries even sell food on the premises, but not mine. It's BYO style.
Not Paid to Read
The one thing I do for my job that's not paid is reading. I do all my reading outside of work, even though I run a monthly book club for 7-9 year olds.  I pick books in a series and challenge my students to "out read" me. We're called "Novel Detectives" and we find good books no matter where they hide. Each month during the school year, we rate a book and then post it publicly so other students know about the good books we've read. I was fortunate enough to connect with a publisher who sent my detectives Advance Reader Copies (ARCs) of soon-to-be-published books. By filling out surveys afterwards, my detectives were able to influence the final printed version of the book. I will confess that the detectives out read me too often, due to the fact that I accomplish most of my reading on the workout bike at the gym.  My favorite ARC so far is Star Thief, a 2017 release.
Paid to Have Fun
I am paid, however, to practice the ukulele at work.  Yup, you read that right. Part of my job involves the ukulele. Two years ago, I talked my boss into buying some ukuleles for work so I could do more with music programs. I originally wanted 6-12 ukes but ended up with two. I was happy to have any. I hear two more are on the way soon – Kala Waterman Ukuleles for the kids: waterproof and in fun, indestructible colors to boot.
The best part of my job as an assistant youth services librarian is the fun of designing interesting programs for kids and families to enjoy. With books heading towards an equal balance of printed and eBook format, the library now relies on programs to bring the community into the building. This is why I moved away from basic music programming to something with a bit more pizazz: the Family Ukulele Circle complete with drums and rhythm instruments. There's some improv, basic music concepts learned and a lot of one, two and three chord songs. So yes, I am paid to have fun, but if I don't have fun, how will they? Favorite songs by the ukulele circle families include Don't Worry Be Happy, Down By the Bay, You are My Sunshine, and the little-known Humpty Dump, complete with nursery rhyme rapping.
I've done many popular programs but not all of them turn out quite so good. In my recent Junior Chef Training for students 7-9 years old, the Health Department got involved. Fortunately, I discovered I needed a Food Handler certificate to teach cooking so I did the training. Then I found out two more things: a) the library needed a permit to have food on the premises and, get this, b) the students couldn't eat anything they made since our library didn't have an adequate cleaning area. Our Jr. Chef training focused on sweet treats and healthy eats -the fine art of toppings, so the students took heavy cream and turned it into whip cream, turned organic yogurt into frozen bites and did two more recipes. Since the Jr. Chefs couldn't eat what they made, the library bought individual servings of organic ice cream with canned organic whip cream and good topping choices (almonds, dried fruit…) Next time, we hire a professional.
To Judge or Not to Judge
One last perk of working in the public library world is the invitations staff members get to do interesting things: write articles for newsletters, present interesting program ideas at conferences, and judge book contests. Yes, invited to be a book judge – whether on a panel or individually. My state's libraries did an Indie author contest for teen and adult books, so I signed up. It was great when I was able to pick which books I wanted to read in round one.  By round two, I was assigned a few semi-finalist books. Those assigned books were so intense that I dropped out of the final round. Although one of my first round picks made it to the finals, I discovered there's a reason why I'm in youth services – content. I've judged other contests since then (usually in the teen category), but that first library judging taught me how NOT to write a novel.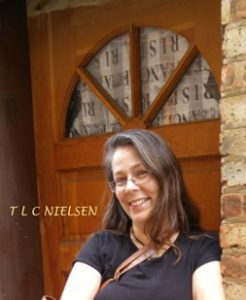 Author Bio:
TLC Nielsen loves her job as an assistant youth services librarian at the local public library within walking distance from home.  She is editing her first novel, By Land or Sea, which makes her appreciate every single book she has ever read. TLC belongs to Word Weavers International, being a helpful VP for the On the Border chapter. A librarian by day, jazz musician by night and a writer in between, TLC continues playing trombone in several area big bands. She played trombone on Rich Rubietta's Resting Place CD and contributed a story to Cecil Murphey and Twila Belk's book, I Believe in Healing (p. 68).  In her spare time, TLC interviews ordinary folks with interesting adventures on her Extraordinary Ordinary monthly blog found here: https://lookandbe.blogpsot.com and travels with her college sweetheart and spouse.