That's right, my friends. The headline says it all. Finally, finally, finally . . . the serial is complete.
Bellanok: The Paladin's Hope is the last of four novellas in a serial project. If you haven't checked out the first 3, head over to My Books to find out about this fun fantasy adventure series.
For those of you have been reading along and excitedly waiting on the final installment . . . well, let me tell you a little more about it.
The Cover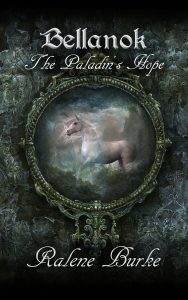 Blurb
As if becoming a paladin in a crazy battle between good and evil wasn't bad enough, now Brian must press onward without his mentor. The demon horde is closing in. Good is outnumbered. And evil has the ultimate weapon.
Fauna still can't communicate with the Creator, and she refuses to believe the fairies need salvation like mere humans. Her pride and her fierce need to protect the inhabitants of Bellanok are the only things keeping her going.
In a race against time, Brian and Fauna will have to unite those left on the island and take the battle to the demon. They'll need all their strength and all their faith to come out on top. Failure is not an option, but what will success truly cost?
Are you ready for the exciting ending to this fantasy adventure? Head over to Amazon now! 
Reviews
You may have heard this before, but reviews are an author's bread and butter. Seriously. Whenever readers shop, especially online, reviews count. Some people don't even realize that they are looking at the reviews. But, often, if you see a book with two 5-star reviews, and another with 25 reviews with an average of 4 stars, which do you think gets chosen more often? The one with more reviews, not the one with the higher ratings.
That being said . . . Reviews do not have to be very long. Just a couple of lines that tell other readers what you enjoyed (or did not enjoy) about the story. It doesn't have to be an in depth analysis.
And, hey, I'm not just toting this whole review thing for myself and my books, but for all authors. If you enjoy a book–take 5 minutes to let the world know!
Up Next?
Later this fall, Bellanok will be compiled into one big novel, with added scenes and everything! Look for updates on that coming in the next few weeks or so. Be sure to sign up for my newsletter so you don't miss out! (Plus, have you seen the Confessions posts? I have some rather unique ones coming up in the next couple of months!)
If you've read the first 3 parts of Bellanok, what did you like about it? If you have not, are you ready to dig in?