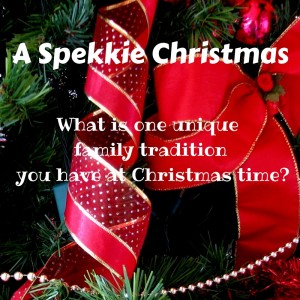 Christmas is a time steeped in tradition–religious, cultural, and family tradition! I don't think too many families celebrate Christmas just alike. And that's what makes this month so unique and fun!
At our house, we have started the Family Night Box tradition on Christmas Eve. Kind of like the "open one present" tradition both my husband and I had on Christmas Eve growing up, our family opens up the Family Night Box, which includes new PJs for everyone and either a family movie or family game. (I try to alternate–this year will be a game!)
So, I just had to know how my spekkie friends celebrate their Christmas season and what makes their traditions unique.
When I was a kid, one of our family traditions was making lefse, a Norwegian flatbread. Every Christmas we would make a batch, then eat it with butter and sugar, rolled up or cut into triangles and served with tea. Both sides of my family would serve this traditional Norwegian food as part of our heritage. —Morgan Busse
It's pretty standard fare for us to splurge on the Christmas meal. We usually get a beef tenderloin and bake it/grill it up with delicious seasonings. It's typically a larger, more expensive cut of meat, but it always hits the spot. I am a carnivore, so of course I love it. —Ben Wolf
Baking a Birthday cake for Jesus. We get 'em – so why shouldn't He? —Josh Hardt
My family and I have a specific routine on Christmas Eve. When it gets dark, we heat up some apple cider (or snag a Starbucks), blast Christmas music, and drive around to look at as many Christmas lights as we can in the area. After we return home, we give each other one or two presents that have something to do with Christmas morning be it a new coffee cup or pajamas or when I was little, a new stuffed animal. —Victoria Grace Howell
We don't get to do this much anymore, but every Christmas my family would go out soon after Thanksgiving and get our Christmas tree. No, I'm not talking a lot in town or a plastic tree from the attic, we'd pack up snacks and hot chocolate then head up to the mountains. Then the search would begin for the perfect tree. Those are some of my fondest memories with my family, hiking all over (sometimes in feet of snow) to find that perfect, 12 foot tree (we've got tall ceilings). I'm excited that this year I get to participate in this tradition again since I'll be going home earlier than normal. I'm definitely looking forward to it! —Emilie Hendryx
We wrap up a gift for Jesus. It's an empty box with an imperfect wrapping job to remind us how imperfect we are. Then we put a slit in the top, and every family member writes on a piece of paper what they are going to give to Jesus for the coming year. No one knows what anyone else has written; it's very personal. Then we put the papers in the box and place the box in the fireplace and light a fire. It's kind of our burnt offering to God. —S.D. Grimm
One tradition we have that dates back to my own childhood is that we allow the children to choose one small gift to open at midnight Christmas Eve. I loved the tradition my parents started and have enjoyed sharing it with my children. —Ronie Kendig
At New Year's Eve, we drop the Christmas Yeti. It's a stuffed toy that my sister in law brought back from the 2012 Winter Olympics. The end of the year always makes me depressed and melancholy, because I'm naturally pessimistic and tend to focus on things I didn't accomplish. So my husband came up with dropping the yeti as our own personal 'New Year's Eve' ball. Since then that goofy yeti's descent has been the main thing that really makes me laugh and not overthink the whole end of the year concept. —Janeen Ippolito
What is one unique family tradition YOU have at Christmas time?
Don't miss out on the final post . . . or lots more fun to come in 2016! Sign up for my newsletter today.