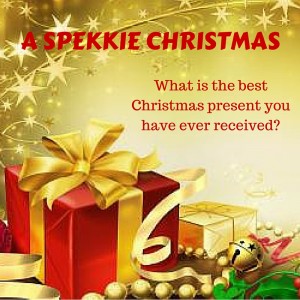 I love giving gifts at Christmas time. I'm definitely one of those who agonizes over finding just the right gift that complements family and friends. Sometimes I run out of time or never land on the perfect present. Still, I love watching people open presents–the light in their eyes, the smiles on their faces . . . *happy sigh*
I think the best present I ever received was the year my husband was deploying to Kosovo. He left in October for training, but wasn't actually going overseas until January. His unit was able to come home for a short Christmas break before heading off. I think that is one of the most special times I got to spend with him.
So, I asked my spekkie writer friends what their best Christmas present ever was, and they had some very unique answers . . .
One of my best friends got me How To Write A Children's Book and Get It Published by Barbara Seuling when I first interested in writing picture books. That was back in 1997. I read that thing over and over! But her support of my dream was the most important. She's still one of my biggest fans! —Pam Halter
I think I was about sixteen, maybe fifteen, when my parents gave me a real desk for Christmas. I'd been asking for one for ages. It had a hutch bookshelf on top. I filled it with all my favorite Sci-Fi and Fantasy novels and writing how-to-books. It made me feel like a real writer to have my own writing desk. —Kristen Stieffel
Oh boy. I've gotten so many good presents, but one that I still use a lot today is my WACOM Bamboo Tablet which is an artist's tablet I use for drawing my characters. My mom gave me the tablet and I didn't expect to get it because it was expensive, but I put it on my list several years ago anyway. I use the tablet so much and it makes drawing so much easier and faster! —Victoria Grace Howell
My family is so generous and I can think of many that impacted my life one way or another. But one of my favorites was a hope chest. My parents gave one to me and each of my sisters. Before I was married, I filled it with dishes and cute kitchen things for when I'd get married. Now that I'm married, it holds all 23 of my journals. (Yes, twenty-three.) —Nadine Brandes
We brought our newborn daughter home less than 2 days before Christmas. I'm probably required by Proud Daddy Code to say her. —C.W. Briar
A hand-made wooden dollhouse from my parents and grandparents. Mom and Dad bought the kit, and Grandma and Grandpa assembled it. It has windows and doors that open and close, and it was painted the same color as our house at the time. It must have been Christmas of 1992. I still have it, and every time I see it, I smile. Such amazing, fond memories of that Christmas morning. I was so surprised. —A.C. Williams
The best Christmas present I received happened when I was 16. It was the gift of my mom's ingenuity and humility. My mom and I were on alone and she had just enough money to pay rent. There wasn't money for food let along gifts, so I was shocked to receive three gifts that year – a sterling silver swan ring holder, a brass/glass mirrored perfume tray, and earrings, I think. She hadn't bought any of them. She'd gone through the mall, humiliating herself by filling out credit applications she knew she wouldn't be approved for (based on income), but with each application, they gave away a gift. And that gift became my Christmas present. She was always creative and ingenious that way. I really miss her. —Ronie Kendig
When I was a kid, personal computers weren't as ubiquitous as they are now. When I was ten or twelve or somewhere in there, I woke up on Christmas morning to find two huge boxes sitting amidst all the other presents. One was for me, and the other was for my sister. We tore the paper off and found two brand new desktop computers in the boxes. (My dad was and is a tech geek, so he had the hookup.) —Ben Wolf
What is the best Christmas present you have ever received?
Still 2 more spekkie posts to go! Are you enjoying the fun? Sign up for my newsletter so you don't miss a post!