I started my writing journey about eleven years ago when I enrolled in a class on writing for children and teens. Although I'd harbored secret desires of being a novelist since the sixth grade, my initial ambitions were pretty humble: just get published in a children's magazine. It took nearly six years before I saw my first short story in print.
Around that time, my ambitions (and my courage) grew and I took a class in writing novels for children and teens, but it took another five years before I held my first book in my hands. You might think I would've gotten discouraged and given up somewhere along the way. Well, you'd be half right. I did get discouraged, but I didn't give up. In fact, now that my debut novel is out and has become an Amazon bestseller for Christian teen fiction on social issues, I'm actually really glad it took me a long time to get published.
Why?
Because without all those years of preparation, there's no way I would've been ready to tackle a book launch or even signing a book contract for that matter.
You see, I've recently been asked to mentor a few aspiring writers, and what I've learned is that many of them just want to sell their book (which they are sure is not just an Amazon bestseller but a New York Times bestseller, too!) and thus hit it big quick. When they tell me about their attempts to get published, I hear about all the mistakes they're making.
I ask, "Have you joined any writing groups?"
They say, "No, I was waiting until I got my first paycheck from the publisher." (Mind you, they don't have an agent or publisher yet.)
"No, don't wait," I respond, "Join now! You need to show the agents and publishers that you take your craft seriously, and you can learn so much from them. Do you have any kind of writing platform? Website, Facebook, Twitter, Pinterest followers?"
"Nope, none of those."
"Not even a personal Facebook account?"
"No."
"Have you been to any writing conferences?"
"No. Why would I go there?"
"Have you learned the proper way to write a query letter?"
"Oh, I just mailed them my entire manuscript. And if they reject it, they'd better return it because I paid lawyers to help me get it copyrighted already."
Yikes! And this is why I'm so glad it took me eleven years to get a novel published. It gave me time to learn not just the craft of writing but the business as well. While I never made any of the mistakes listed above, it did take me a lot of time to get my website in order (in fact, I played around with a couple different blog ideas first) and to build up my social media platform.
God had a plan for my writing career. He knew I needed time to be ready to handle the demands and stress of marketing a book. He knew I'd need to meet and learn from many different authors who would help guide me along the way. Honestly, if it hadn't taken about eleven years for me, I don't think Angelhood would have made it on the Amazon bestseller list the day it released. I wouldn't have had the marketing and networking skills to pull that off.
If you're not yet published and feeling frustrated, please know that most of us have been there. It's a very rare author who doesn't spend at least a few years learning their craft and the business. If you haven't made that book deal yet, take heart. It means you've got time to network, build that email list and social media platform, and improve your craft. Then when the big day finally arrives, you'll be ready to tackle it like a pro!
Author bio:
A.J. Cattapan is an author, speaker, and middle school English teacher living in the Chicago area. Her published works include the young adult novel Angelhood, a guardian angel story in the tradition of It's a Wonderful Life. She's also been a Chicken Soup for the Soul contributor and had numerous short stories and articles published in magazines for teens and children, including Highlights, Pockets, and Hopscotch for Girls. She will also be featured in a recipe and corresponding story anthology due out later this year.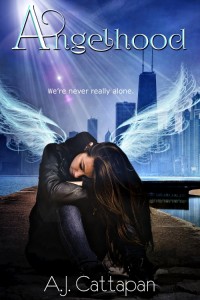 Book blurb:
Seventeen-year-old theater geek Nanette believes her life is headed toward stardom on Broadway. But when her dream theater college rejects her and her best friend dies in a terrible accident, Nanette decides the world would be better off without her. Unfortunately, the afterlife offers something less than a heavenly situation. Trapped between alternating periods of utter darkness and light, Nanette is stuck following a high school freshman around. Soon, she learns she's a guardian angel, and the only way she can earn her wings is to keep her young charge, Vera, from committing the same sin she did—taking her own life.
Unfortunately, Nanette is missing more than just her wings. She has no tangible body or voice, either. Frustrated by her inability to reach out to Vera and haunted by memories of her old life, Nanette wants to give up, but then she sees what happens when another Guardian at the high school turns his back on his charge. The shock is enough to supercharge Nanette's determination. If she's going to find peace in the afterlife, she's going to have to discover what living is really all about.
Links below:
Social Media Links:
Website: www.ajcattapan.com
Facebook: www.facebook.com/acattapan
Twitter: https://twitter.com/AJCattapan
Instagram: https://instagram.com/a.j.cattapan/
Pinterest: https://www.pinterest.com/ajcattapan/
Goodreads: https://www.goodreads.com/book/show/24553425-angelhood
Google+: https://plus.google.com/+AJCattapan
Amazon Author Page: www.amazon.com/author/ajcattapan
Purchase Links for Angelhood:
Paperback: http://tinyurl.com/nam26ek
Kindle: http://tinyurl.com/nvaphgk
Nook: http://tinyurl.com/q973qz8
iBook: http://tinyurl.com/qya98ya
All ebook versions are currently only $1.99!