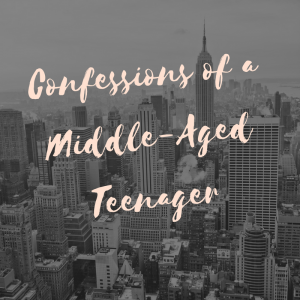 by Heather Fitzgerald
I'm a late bloomer. It took many years of marriage and four kids to figure out what I wanted to be when I grew up.
When I graduated high school back in *ahem* 1987, I had plans of becoming a model and world traveler. Yeah. I know. Very realistic and attainable. But college was definitely not part of my head-in-the-cloud plans because there wasn't anything I wanted to do that could justify the cost.
Thankfully, the Lord had other ideas. He brought Prince Charming my way a year after graduation, and we were married shortly after I turned twenty. Billy (aka the prince) was the left brain to my right brain—quite literally—and helped me to keep my feet on the ground without giving up my desire to dream big and embrace life.
But once we started our family, a lot of my hopes and daydreams had to be set aside for a season. This was before the internet and smart phones too, so when I see busy moms that—somehow—juggle school, jobs, writing, housework, and social media, I'm a bit boggled and incredulous. I don't think I could have managed such an itinerary with any measure of grace, let alone success! Hats off to you millennials that have grown up with social media diversions as part of your norm. I guess it's all a matter of what you're used to.
By the time my oldest daughter was seven, we also had a boy, age six, with autism, and two more daughters, age three and newborn. Let's just say there's a large chunk of my young married life that's rather fuzzy. Beyond laundry, meals, school work, and therapy, I don't have a whole lot of clarity on the day to day. Pretty sure everyone made it through well fed and with clean underwear, but I wouldn't bet large sums of money on it.
Still … in the midst of our busy family life, I knew there would be another season that would allow more time for creative pursuits. Fanciful ideas always bubbled just under the surface. Don't get me wrong, I wasn't merely biding my time as a mother so I could get to the 'fun stuff'. No. I loved being a mom, a wife, and a teacher. Creative pursuits just looked different at that time…like learning to cook and enjoying the challenge of decorating on a shoestring budget. Still, my mind constantly came up with ideas, both realistic and impractical.
One thing I had always loved to do, from childhood through high school, was dance. Think Fame and Flashdance—iconic 80's movies. Although my parents didn't have the finances to put me into any sort of lessons or program, public school had quite a few outlets for it, between dance team, cheerleading, and talent shows (not to mention hoofing it around my house). However, after graduation I really didn't have an opportunity to continue dancing.
When my youngest was two, my husband encouraged me to get involved with it again (told you he was a prince!). Being that I could only take classes when he was home in the evening, there wasn't a wide selection of adult dance classes to choose from. I could take ballet, or ballet.
I chose ballet.
Since I hadn't any experience with this form of dance beyond a plie, it was a whole new discipline. To be honest, it wasn't nearly as fun as contemporary dance because it's much more technique driven and all about uniformity among dancers. I'm more of a free spirit. But it was still an opportunity to dance, nonetheless, and I learned to enjoy it.
Around that time, my kids began to take classes at a fine art school for homeschoolers. Eventually, I put my son in their ballet program to help with his coordination. I stayed in class and assisted him since his coordination and flexibility were about as natural as my talent to work quadratic equations (hint, that's a left brained activity and I don't have one of those).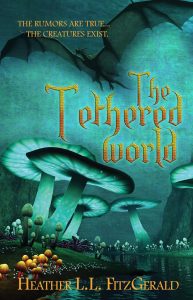 Because of my involvement, I was eventually offered a job teaching ballet at this fast-growing school.
What???
Okay, the Lord definitely had a secret agenda for me when ballet had been my only option for dance classes a few years earlier. Someone was actually going to pay me to teach dance and I'd get to choreograph performances—which was my favorite thing ever.
Fast forward fourteen years. I'm still teaching ballet at this fabulous school. We've grown from a handful of students to close to one thousand! We've expanded from two ballet teachers to five. And choreographing for our 'showcase' is still the best part of the year for me. Choreography is storytelling set to music. I prefer to use songs with lyrics so that we can express the story through dance, though certain instrumental pieces can move me in much the same way and I've used them as well.
As my children became teens and tweens, I began to see how swiftly our school days would come to a close. When my youngest was in sixth grade and my oldest had graduated, I could feel the fetters of schedules, classes, rehearsals, and performances loosening, little by little, as each child became a young adult. What was I going to do with myself? Ballet classes were only a once a week event. I didn't want to choose a career path after our final graduate walked the stage. I needed a goal to work toward.
Enter writing. If I could begin a career in ballet in my thirties, why couldn't I begin a writing career in my forties? I'd always had the desire and the ability lurking just under the surface. Where I had struggled tremendously to keep my head above water in math, I had easily coasted through English and literature courses. And as a homeschooling mom, I enjoyed reading to my kids most of all. "Just one more chapter" was a sure way to take a bite out of my well-intended schedule.
I had already been playing around with writing kids books and venturing into the blogosphere, so writing wasn't a brand new pursuit. But I made a firm commitment to have some sort of career in place by the time my youngest graduated. Though I had often dipped into creative pursuits only to let projects sit unfinished for eons (if finished at all), I felt like the Lord was calling me to look at the big picture, the long term, and the future of my grown up self.
Well, number four graduated in May of 2016. My first book The Tethered World was published in February of 2016 with The Flaming Sword releasing that November. The Genesis Tree is coming out this June which means my first publishing contract has been fulfilled. Pretty much divine timing, right? Divine indeed because I look back and wonder how my blonde, right-brained self managed to pull this off.
I can't help but view the past twenty-seven years of marriage with a thrill of awe and thanksgiving over how well the Lord orchestrates our paths. He has blessed me with a wonderful husband, terrific kids that have grown into treasured friends, a beautiful grand daughter, and—amazingly—a dual career doing things that I absolutely love. It's humbling to look at how little I had to do with any of it. Even the talent to dance or to write are gifts from Him, designed by Him.
I feel like I'm getting some sort of do-over from my graduation in '87. Probably because I needed to grow up a bit to know what I wanted to be when I actually grew up. Thanks to the disciplines of being a wife and a mother, I've matured enough to handle the freedom of self-expression that would have been wasted in my youth (on me anyway).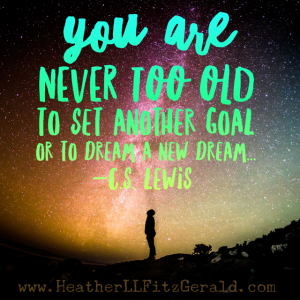 Yep. I'm a late bloomer. What about you? Maybe you had different opportunities than me and were able to enjoy a career before you reached middle age (okay, maybe you're not anywhere close to being middle age but, I promise, you'll be there in a blink). Still, we all have hopes that are deferred for one reason or another. What are your future dreams?
Although there's controversy surrounding whether or not C.S. Lewis actually said this, it is still a favorite quote and sounds like a tidbit of his wisdom. "You are never too old to set another goal or to dream a new dream." I'm certainly proof of that.
And I'm not done dreaming!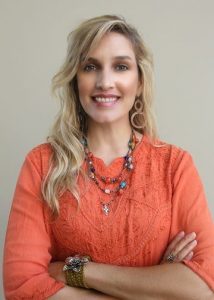 Author Bio:
Heather L.L. FitzGerald writes from her home in Texas, while dreaming of being back in the Pacific Northwest, where she grew up. When her four kids were young, she enjoyed reading aloud until her voice gave out. (Her son, who is autistic, would just move on to his favorite audiobook).
Certain stories became good friends—the kind you want to revisit. The kind you wish never needed to say goodbye. Those are the kind of stories Heather aspires to write. Stories worthy of delicious coffee. Stories difficult to leave. Her YA Fantasy trilogy The Tethered World Chronicles will be complete when her third book, The Genesis Tree, releases June 1st. Her other books, The Tethered World, and The Flaming Sword, are available on Amazon or can be ordered at any book retailer.
Heather is a member of the North Texas Christian Writer's group, ACFW, CAN, and helps with the Manent Writer's group in Fort Worth, Texas. You can connect with Heather on her website/blog,  Facebook, Pinterest,(Belongs to her main character, Sadie), Character blog: (Sadie's mother has a blog pertaining to legendary creatures), Twitter, Instagram, Goodreads.