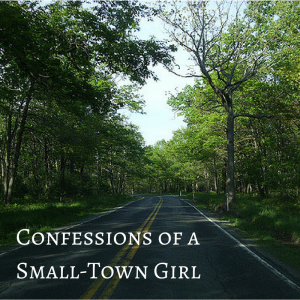 by J.M. Hackman
People hear "author" and immediately conjure up a glamorous life, full of book signing-days and jet-setting nights. That's not me. Or they imagine days filled with writing The Great American Novel in cute little bistros and cafés. That's not me, either.
The reality is I'm a small–town girl (population 774 and counting). Always have been, and probably always will be. I live in the same small town where I grew up and have lived in for my forty-plus years (cue the John Mellencamp song Small Town). I got married here, had my kids here, and am expecting to die here (although I have no plans to do so anytime soon). I married a small-town boy from Vermont who lived on a dead-end dirt road, so rural living suits both of us.
We live in the mountains not far from Pennsylvania State University where I commuted to and graduated from after four years. (Go Lions!) As I was growing up, I was convinced this town would smother me. State College, the closest "city," seemed much more cosmopolitan than my small town. I couldn't wait to get out and start living my life. Live here? Why? There was nothing to do.
I spent a year at Messiah College, only eleven miles away from Harrisburg. After seeing a drug bust complete with SWAT vehicles in the state capitol one night, I was able to appreciate the quirks of my small town life a little more.
Everyone either knows everyone else or is related to everyone else. If they don't know you, they'll ask. I went to a private high school in a different school district so upon being introduced, I often reeived a perplexed look and a "Who's your… are you Kenny's?" (My dad will always be "Kenny" even though he's in his sixties). This used to irritate me. I wasn't anybody's. I had my own name—why couldn't they remember that? I do it myself now to people I meet here, realizing it's a way people establish connections.
We don't go "over the mountain" on a whim. The closest Walmart is twenty-five miles away. The closest Starbucks is fifteen miles away. (Yes, yes, I know—coffee addicts are gasping with horror. This is why I like tea.) Most of my doctor offices are twenty-five to thirty miles away, so every round-trip is at least an hour driving time. Therefore, I'm having two launch parties. As much as they love me, my church family and local community will not go "over the mountain" just to buy a book.
Winter storms don't scare us. After living on the mountain for twenty years, my husband has learned we have our own weather system. When I call him to come home from work, it's usually because we're getting accumulating snow or freezing rain. His response? "Really? It's raining here."
We'll take "the long way," thanks. Many of us prefer the mountain road over the interstate. Before I-80 was constructed (finished in Pennsylvania in 1970), the mountain road was the only way to get to the towns east and south of us. It's a two-lane road, with steep drop-offs, twists, and turns, and I could drive it with my eyes closed. All of the school buses still use it.
Instead of cul-de-sacs, we have gorgeous recreational land. Our community relies quite a bit on hunting and fishing. At the beginning of the fall hunting season, an influx of hunters move in from the city to stay in their cabins for a long weekend. Three- and four-wheelers are common. Instead of summer beach houses, some families have a hunting cabin they use for hunting season or for occasional summer weekends. A wooded area borders our backyard where we've seen deer, wild turkeys, and evidence of a local bear (claw marks on our white birch tree and teeth marks in our now-ruined inflatable pool).
So small-town life in the mountains doesn't seem so "small town" anymore. My husband and I are content to raise our family close to nature, far from the glitz and glamour of busy city life. After all, there's truth in the saying: "You can take the girl out of the mountain, but you can't take the mountain out of the girl."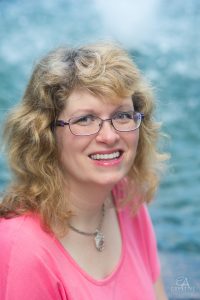 Author Bio:
J.M. Hackman has held many positions: assistant librarian, office assistant, office manager, substitute teacher, writer, wife, and mother. She still holds the last three. And loves it. She received a degree in Elementary Education from Pennsylvania State University and now spends her days writing stories, consuming massive quantities of chocolate, and looking for portals to other worlds. You can find her at www.jmhackman.com.
Social Media Links:
Website: http://jmhackman.com
Facebook: https://www.facebook.com/jmhackman/
Twitter: https://twitter.com/jm_hackman
Goodreads: https://www.goodreads.com/author/show/15648309.J_M_Hackman
Pinterest: https://www.pinterest.com/jillmhackman/
Google+: https://plus.google.com/100069873149516870326
Amazon Author: https://www.amazon.com/J.-M.-Hackman/e/B01K9PJMPE
Purchase Link on L2L2 Website: http://bit.ly/2mf4Iwg
Spark is available at Amazon, Barnes & Noble, iBook, Kobo, and any other online retailer, and Spark can be requested at any bookstore or library.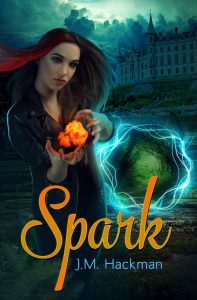 Spark Back Cover Copy:
Brenna James wants three things for her sixteenth birthday: to find her history notes before the test, to have her mother return from her business trip, and to stop creating fire with her bare hands. Yeah, that's so not happening. Unfortunately.
When Brenna learns her mother is missing in an alternate reality called Linneah, she travels through a portal to find her. Against her will. Who knew portals even existed? But Brenna's arrival in Linneah begins the fulfillment of an ancient prophecy, including a royal murder and the theft of Linneah's most powerful relic: the Sacred Veil. Hold up. Can everything just slow down for a sec?
Unwilling yet left with no other choice, Brenna and her new friend Baldwin (Um, hello, Hottie!) pursue the thief into the dangerous woods of Silvastamen and beyond. Exactly what Brenna wanted to do for her sixteenth birthday. Exactly. When they spy an army marching toward Linneah, Brenna is horrified. Can she find the veil, save her mother, and warn Linneah in time? And more importantly, why on earth doesn't this alternity have Belgian waffles?