A kind word doeth good like medicine.
The other day a Facebook friend sent me one of those memes that showed a bear, a saying and the word hugs. When I thanked her, she said she'd be thinking of me and hoped all was good.
At that moment, it was.
Kind words usually give a tiny spark of joy, warmth, laughter or peace. I always like to think of those who use them, as a special person. Let's think about how kind words benefit:
Never be afraid to pass on a kind word. Have you ever seen a store clerk's face when you said, "Have a good day"? We were in a farm store the other day, and a lady was in training. She wasn't familiar with all the ins and outs of ringing up a customer, but her trainer did a good job of instructing her. When I assured them I was fine with the slower pace we were receiving, the trainee's face lit up. I made sure to assure her she'd done a good job when our transaction was completed.
ŸAlways remember: most people have bad days or "dips" in their lives.  Be that person who shares a smile, a word of encouragement, a friendly act. Don't pass on ugly attitudes or actions because the world thinks it's the thing to do. Be different and bold and encouraging!
ŸThere are many types of people with all kinds of personalities. No matter how YOU try, some people will never change. There are always going to be constant complainers and whiners, depressive people with negative attitudes, grouchy people who are angry at everyone and everything. Don't let that stop you. It's so easy to allow yourself to be tainted by those ugly personalities and attitudes. Don't! Remember, a kind word may do more good than you realize. Corrie Ten Boom went to one person's home MANY times before she convinced that person. Be that persistent.
ŸLastly, it's important to YOU to be kind. Not only will it give you satisfaction in doing/giving a worthwhile action/word, but it will bring a peace and joy to your own self. Less stress. Less worry about what you can not do. And . . .
Relaxation.
Who doesn't need that? Have a wonderful day, people!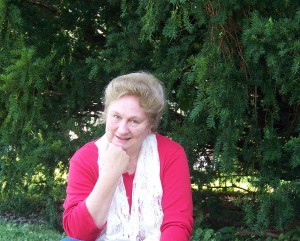 About the Author:
Brown not only has her award winning (Winner of the 2015 Christian Small Publisher Award in General Fiction, nominated for an Epic Award, RWA International Digital Awards finalist in Inspiration, Laurel Award finalist, Selah finalist; Genesis semi-finalist) debut novel, The Redemption of Caralynne Hayman, available for purchase now, but a companion book called West Virginia Scrapbook: From the Life of Caralynne Hayman, filled with tidbits of information about West Virginia.
A fun, lighthearted mystery series began with the first book: Hog Insane, introducing Denton and Alex Davies and now her second book in this series, Bat Crazy. Her WWII romantic suspense Spies series began with With Music In Their Hearts, featuring the first of three red-headed sisters, three spies, and three stories.
Besides being a member and active participant of many writing groups, Carole Brown enjoys mentoring beginning writers. She loves to weave suspense and tough topics into her books, along with a touch of romance and whimsy, and is always on the lookout for outstanding titles and catchy ideas. She and her husband reside in SE Ohio but have ministered and counseled nationally and internationally. Together, they enjoy their grandsons, traveling, gardening, good food, the simple life, and did she mention their grandsons?
Personal blog: http://sunnebnkwrtr.blogspot.com/
Facebook: https://www.facebook.com/CaroleBrown.author
Twitter:  https://twitter.com/browncarole212
Pinterest: http://pinterest.com/sunnywrtr/boards/
Goodreads: http://www.goodreads.com/user/show/5237997-carole-brown
Linkedin:  https://www.linkedin.com/profile/view?id=67381031
Google+:    https://plus.google.com/u/0/113068871986311965415/posts
Stitches in Time:  http://stitchesthrutime.blogspot.com/
Barn Door Book Loft: http://www.barndoorbookloft.net/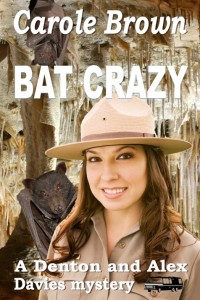 Back Cover Blurb for Bat Crazy
Red-eyed Monster Bats that attack humans?
Denton doesn't think so and Alex hopes not, but who are they to quibble with the local gossip?
Transmission problems and a blown tire land Denton and Alex Davies right in the middle of a dilapidated, unfriendly town that's welcoming no strangers, least of all nosy ones with a bent toward solving mysteries.
But with support from the town detective–an admirer of the Davies–and their own tenacious personalities, Denton and Alex aren't easily scared off. Not when warnings in the form of painted bats show up on the porch of their rented cabin, not when the mayor threatens to run them out of town and not even when Denton finds the bones . . .
An ancient story, a bit of a map, a lost jewel and even a bat clan serve to provide the Davies and their sidekick, Taffy, the dog, their hardest case so far.
Available on Amazon and other online stores:
http://www.amazon.com/Carole-Brown/e/B00EZV4RFY/ref=sr_ntt_srch_lnk_1?qid=1427898838&sr=8-1