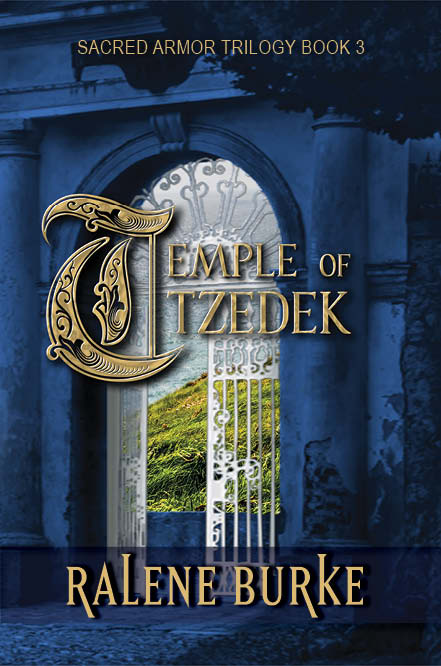 No matter their failures, the fate of the Three Kingdoms is in their hands.
Coming Soon …
Karina and Tristan lead their ragtag group into the wilds of Tzedek on a desperate journey to the demolished temple, praying they find remnants to point them to the last two pieces of the sacred armor. But Faramos and his minions are closing in.

Karina strives to be the leader the group needs as each clue draws them to the next dead end. Despite their failures, they find help in unlikely places, seek advice from the most unusual people, and adventure to places they never thought they'd go.
Join Karina and Tristan in this epic conclusion to their fantastical journey as they attempt to defeat the ancient evil infecting their world. Even when standing up against the enemy may be the last thing they ever do.
Endorsements
A powerful fantasy adventure full of danger lurking around every corner. If you've ever felt the weight of the world on your shoulders, or like you're at the end of your strength and weary of fighting the good fight, then this journey is for you. Join Karina, Tristan, and their companions on their mythic quest to recover the magical pieces of armor and save their world from the darkness threatening to overwhelm them all. Not just a fantastical quest, this tale is woven through with threads of faith, redemption, and hope in the face of seemingly insurmountable odds. Temple of Tzedek is bound to delight lovers of fantasy adventure and spiritual truth.
— Jenelle Leanne Schmidt, author of An Echo of the Fae and The Minstrel's Song Series
Temple of Tzedek champions qualities we all strive to have: perseverance, self-sacrifice, and wisdom, while the characters who display these traits also wrestle with their own flaws. Even though Karina, Tristan, and their earnest following struggle against doubt, setbacks, and peril along the way, readers will finish Ralene Burke's trilogy feeling uplifted and encouraged.
–Rebecca P. Minor, author of The Windrider Saga, Realm Makers Founder
Realistic characters, a well-drawn plot, hefty doses of intrigue and adventure make Temple of Tzedek a must-read! Burke deftly lures in the reader and propels them along a riveting journey.
–Ronie Kendig, award-winning author of the Droseran Saga
Want to see some of the inspiration behind the amazing people, places, and creatures in Temple of Tzedek?
Be the first to know about future releases by signing up for my newsletter! You'll get my monthly newsletter (plus occasional announcement emails), which focus on encouragement, speculative fiction, and all things that #ShineBeyond!