Armor of Aletheia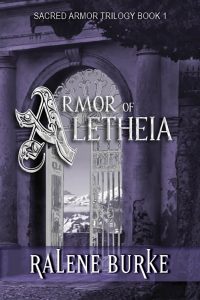 A world in danger,
A betrayed queen,
A reluctant hero …
The death of her king changes Karina's life forever. Fleeing the royal house, she
must leave her life behind to seek out the Armor of the Creator—to save the very
people who now hunt her.
Faramos, the evil warlock waiting to unleash hell, knows the Creator has already
chosen his warrior, so he sends his bounty hunter to retrieve her. After Tristan
abducts her, he witnesses Karina's gentle nature and strong independence, and he
finds he can't complete his assignment.
Together, they set out to retrieve the armor and defeat the hordes of creatures
sent to destroy them. But is Tristan's heart secure as he faces certain death for
defending the queen? And will Karina have the courage to become all the Creator
intends her to be? Failure will condemn the world to eternal darkness.


Endorsements
In "Armor of Alethia" Ralene Burke has crafted a fast-paced novel filled with surprises that young readers of fantasy and adventure are sure to enjoy. Filled with unique characters, this first installment of the series will be quickly devoured.  ~Patrick W. Carr, Author of  The Staff and the Sword trilogy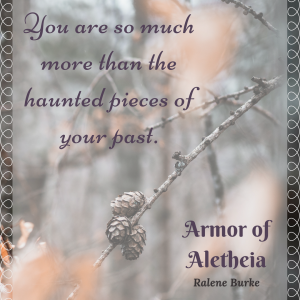 Burke's Armor of Aletheia is a novel that feels at once familiar and new. Fantasy fans will feel right at home in this sprawling adventure, and admirers of Lewis' Narnia will appreciate the allegorical accents woven through the text. This novel of political intrigue, romance, faith, and friendship is rife with memorable characters, a twisting plot, and high stakes.    — Aaron D. Gansky, author of the Hand of Adonai Series
Magic, romance, danger, Aletheia has it all. This fantasy by Burke follows the traditional fare the likes of J.R.R. Tolkien and Terry Brooks. Fantasy fans, you don't want to miss out in this one! ~Morgan L. Busse, award-winning author of the Follower of the Word and The Soul Chronicles.
Want to see some of the inspiration behind the amazing people, places, and creatures in Armor of Aletheia?
Armor of Aletheia Blog Tour
Don Hunter – Review
Lands Uncharted – Book Highlight
J.M. Butler – Guest Post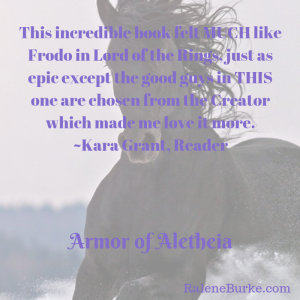 New Author Fellowship – Guest Post
Jannette Fuller – Book Highlight
H.L. Burke – Interview
Jebraun Clifford – Interview
Laura Pol – Interview
J.L. Mbewe – Book Highlight
Anna Tan – Guest Post
Morgan Busse – Book Highlight
First 500 words … Enjoy!
"By all that is created!" Karina Dubrev bit back the rest of the curse, plopped in a chair, and hunched over her throbbing fi­nger. Several strands of dark hair fell across her hand, and she pushed the lock back before it could slide across the wound.
"Watch your words, Karina." Her mentor, Jace, pierced her with a disapproving look.
She chose not to respond. Instead, she reached over to the table and dipped her hand in a shallow container. The offensive green concoction smelled of honey and the aptly named Scorch flower—sweet and nauseating at the same time. She smeared on the ointment and wrapped her ­finger with a clean cloth, then stood to smooth the wrinkles from the dingy apron covering her deep-blue dress.
"Please keep an eye on the tincture in the pot, Karina. We cannot let it burn." Jace's gentle warning was no less authoritative—like a stern master who would not be denied. She tried to pay attention, but she wanted to do something more active, like picking herbs or mixing ointments, not watching a black pot boil.
The single window adjacent to the ­replace let in the last light of day. Sinking below the mountains, the sun cast halos around the towering peaks. How much time had passed since she had started helping Jace restock medicines? Her gut clenched. She stole a glimpse at the elderly man hovering over a table loaded with the various bowls and utensils used in their healing craft. Did her master realize what time it was?
"Karina!" A familiar, shrill voice shouted from the open door.
She closed her eyes, breathing deeply. Obviously, too much time had passed.
"Karina, I do not know who you think you are that you don't have to attend the evening meal with the rest of the royal household."
Karina dared to exhale, then turned.
Queen Anaya of Aletheia stood in the doorway, hands on her hips, her porcelain face puckered, her blond curls piled atop her head. ‑e purple jewels in her crown matched her purple and silver gown. She quirked an eyebrow and waited.
Karina balled her fi­sts. When pain ripped through her burned fi­nger, she winced. "My apologies, Your Majesty. I was helping Jace restock the shelves—"
"You may well be the royal healer's apprentice …" She sniffed. "… but you are also the king's ward. He expects you to join us for meals, especially when we are hosting Aletheia's nobility. Honestly, at seventeen years of age, you should understand this."
Karina bowed her head. "Of course, Your Majesty."
The queen was silent for a moment, and, with an exasperated look, pointed down the hallway. "Now!"
"Oh." Karina turned toward Jace. "My apologies, sir. I must take my leave for now, but I will return."
Jace offered a sympathetic smile that etched well-worn lines in his face—much like her father's smile. "Do not worry, Karina. I am almost done. You may return tomorrow to help me distribute the medicines."
She nodded and shuffled after Queen Anaya, who silently led Karina through the labyrinth of the royal house to the dining hall. 
Be the first to know about future releases by signing up for my newsletter! You'll get my monthly newsletter (plus occasional announcement emails), which focus on encouragement, speculative fiction, and all things that #SHINEBeyond!
[mc4wp_form]