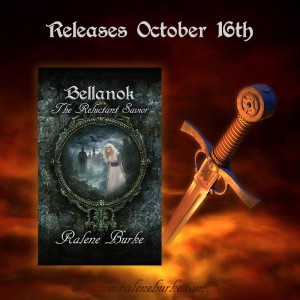 Release week is finally here. I am so thrilled . . . oh, man, you just do not even know. There's also a good measure of fear and uncertainty, as there always is whenever we put ourselves out there in a way that makes us vulnerable. But this story is something God put on my heart, so at least I know my Audience of One approves.
This week, I am also working hurriedly on Part 2, hoping to have that done soon so that I can release that sometime around Thanksgiving. Oh, yes, that soon. The plan is to release each of the 5-part serial once a month.
If you have not yet signed up for my newsletter, I highly encourage you to do so. Be the FIRST to know any of the upcoming news about releases and such, as well as fun and encouragement delivered to your Inbox on a regular basis.

So, Bellanok: The Reluctant Savior releases on FRIDAY, OCTOBER 16, 2015.
It will only be available in e-book format for Kindle. If you do not have a Kindle, I am sure you are aware by now that Amazon has Kindle apps available for your computer, tablets, and phones. Download it to day so you're ready!
If you have yet to see or hear what Bellanok is about, here's a little blurb:
Bellanok is a haven for myths and legends . . . until evil discovers a way in. Now the fairy queen, Fauna, must journey from the island realm to the modern world to find the man the Creator appointed to save their kingdom. A man she has been dreaming of her whole life.
Brian is a down-on-his-luck pastor on the verge of giving up on God. He's tired and frustrated–a failure. No sooner does he make a decision that jeopardizes his career than an unusual blonde woman shows up and tries to convince him he is some kind of savior.
Fauna must open Brian's eyes to a different reality, and Brian needs to embrace the haven's secrets. If neither of them succeeds, Bellanok will succumb to evil and the world will lose all trace of innocence.  

On Saturday, October 17, I'll be a guest at J.L. Mbewe's anniverary party on Facebook. Not only will you get to chat with me and learn more about who I am and what Bellanok is all about, but you'll also get to know 2 of my best friends and favorite writers, J.L. Mbewe and Morgan Busse.
And Two More Novels
While I am super excited about my own novellette releasing, there are 2 other books I am excited about, so I thought I would share them with you.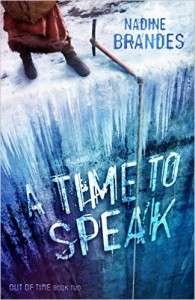 The first title is the second book in Nadine Brandes' Out of Time series, called A Time to Speak. This dystopian tales continues to follow a young woman named Parvin and her journey to change her world. I am about halfway through the first book, A Time to Die, and am loving it. I highly recommend it for YA and adult readers alike.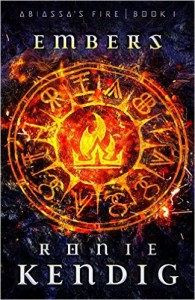 The second book is Embers by Ronie Kendig, the first novel in her Abiassa's Fire series. This is Ronie's first foray into the realm of fantasy writing. Her books up until now have fallen under her well-known tagline, Rapid-Fire Fiction, and have been more suspense/romantic suspense. I've enjoyed all the books I've read from her. If she applies the same tactics in Embers, suspense with a twist of fantasy, I'm sure this novel is going to be a hit!
So, now you have THREE books to enjoy this weekend. How will you ever choose?
Who said anything about choosing?
Support literacy in America and buy all 3! Not that I'm biased or anything.
Which stories sound the most interesting to you? What do you think of the awesome covers?