So, the time has come at last. My agent, Julie, and I have been working hard to polish Bellanok: The Reluctant Savior, the first part of the 5-book mini-series, and make it shine. I'm very excited to share it with you all in October. I know it's a long wait, though, so I thought I'd at least share a little something with you today.
How about a book cover?
Kirk DouPonce, a titan in the cover design world, let me interview him a couple of months ago for the Realm Makers blog about the importance of book cover design. It's a great post!
I love book covers, and it's definitely one area I am very picky about. Luckily, I have a fabulous friend who is great at cover design. You can check out more of what Jennette does at Master Design Solutions, where she works with her husband on anything from website design to book covers.
Anyway, back to Bellanok. Here's a little blurb about the book, in case you haven't heard about it yet.
Bellanok is a haven for myths and legends . . . until evil discovers a way in. Now the fairy queen, Fauna, must journey from the island to the modern world to find the man the Creator appointed to save their world. A man she has been dreaming of her whole life.
Brian is a down-on-his-luck pastor on the verge of giving up on God. He's tired, frustrated, and feeling like a failure. No sooner does he make a decision that jeopardizes his career than an unusual blonde woman shows up and tries to convince him he is some kind of savior.
Fauna must open Brian's eyes to a different reality, and Brian needs to embrace the haven's secrets. If neither of them succeeds, Bellanok will succumb to evil and the world will lose all innocence.  
Now that I've given you a taste of what's to come, here's the real treat. Without further ado, I present Bellanok: The Reluctant Savior book cover!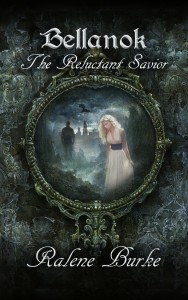 What do you think? 
Do you have a favorite book cover? What do you like about it?