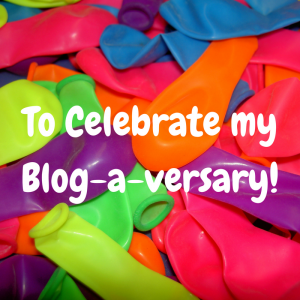 Today is the anniversary of my blog! I don't recall exactly how long–3 years? Maybe. But what an exciting–and sometimes crazy–ride it's been. From character interviews to writing/editing tips to today with the Confessions series and social media emphasis, blogging has been anything but boring.
I just wanted to say thank you to all you lovely people who've been with me on this journey. Followers from the old days and people who have just joined the journey. There's nothing more encouraging than to know that other people care. You all are the best. *hugs all around*
Blogging has not been without its own set of issues. My website was hacked once, and I lost all my previous blog posts. All those fun character interviews–gone. I had some pretty crazy issues with my previous website host, which resulted in a downed website and ultimately me switching providers. Earlier this year, a buggy plugin made it impossible for me to even get into my WordPress dashboard to blog. But my new trusty website host fixed it for me.
But that's all in the past.
So what do we have to look forward to in the next year?
I'm continuing with the "Confessions" series for now. It's been quite popular, and I think many of you readers find a little bit of yourselves in a lot of the posts. I know I do. I'm going to try to mix it up a bit, though, invite some non-writer people to share a bit about them and their lives. The point is to show how we all SHINE Beyond our circumstances.
I have at least 2 books coming out in the next year. So, there will definitely be a few posts about those along the way.
New to the blog, I'll be posting about book marketing and social media, each on a separate Friday of the month. For the non-writer followers, I still think you might get something out of the social media posts, and you might just enjoy hearing about the insides of my book marketing journey.
I'm bringing back Tea with Me! For those who don't know, these posts are an opportunity for YOU to ask me questions–about anything. Questions can be about me, my writing, life, science … anything! If I don't know the answer, I'll try to find it; if I can't find it, I'll make it up. It's tons of fun. This is one of my favorites, and readers seem to enjoy READING the posts. But I'll definitely need y'all to be sending me questions for this once-a-month post. I usually put out a call on Facebook for questions, so be sure to follow me there.
While I don't send my blog posts out via email anymore, I do highlight popular articles in my monthly newsletter. Sign up below so you don't miss a thing!
[mc4wp_form]
Bellanok Sale
In addition to this week being my blog-aversary, it's also my birthday week. And to celebrate, my fantasy novel, Bellanok, is on sale for 99 cents. That's right. A fantasy adventure, right at your finger tips, for only 99 cents. Who's ready to party? You can find more about Bellanok in the My Books tab!
Do you celebrate your birthday with any traditions?