by Bonnie Lacy
Confession #1 ~ I am so grateful I didn't get published when I thought I shoulda. One novel under my belt. Oh. I. Had (and still have) so much to learn. I am reading a book on writing/publishing/story at all times, whether print or ebook. Conferences like Realm Makers and others have put me in touch with more than my editor! I am determined to take some kind of class every year. This year I took David Farland's online workshop, The Story Puzzle. (He enticed with $100 off! Money talks!) Last year I took Kevin Kaiser's Storyseller University and I still need to apply more of his suggestions than I have. Next year? Any suggestions?
Confession #2 ~ I am so grateful I didn't give up. I know I'm not where I want to be, but I have come so far from that first novel. I have a firm belief that some of the best writers/talents/artists give up. I am not the best, nor the worst. But I'm still here. Did I ever feel like giving up? Heh. Yeah, me too. Apply the Dori principle—keep on writing, keep on writing … Now I have six novels and over fifty short stories. And still so much to learn.
Confession #3 ~ I am a doodler. And the doodles are weird. But as I write this, I realize why they are a great lead-in to a writing sprint. I tend to doodle a little at a time—a little each day. I don't plan–I play. Add a little here, a few lines there. Bubbles. Organic. Structure. Each day adds a little more to the mystery of the finished doodle. Just like a story. Whether you're a pantser or plotter, a story grows upon itself, adding to the mystery of that story.
Examples: Check out bonlacy on Instagram. Most times the first day/first doodle is baffling. What is that? But as I let myself play (Grandson Eli always tells me, "It doesn't have to be perfect.") and … doodle, I let it grow and be and laugh and … well, I let the strangeness grow. Some lines are smudged—I'm not a machine—then they'd be … perfect.
Same for me in the story. That old rough, first draft. Ick. What is that? But the second and third … well for me, that's where the magic happens.
And the strangeness grows …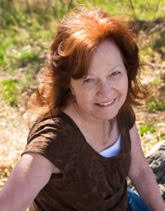 Bonnie Lacy is the author of six novels, one fiction book, devotionals, several children's books, and over fifty short stories. Her first published novel, Released, can be found here. Rescued, Book 2 in The Great Escapee Series, is due out Fall of 2016. Visit her at: www.bonnielacy.com. Twitter: @BonnieLLacy. Instagram: bonlacy.