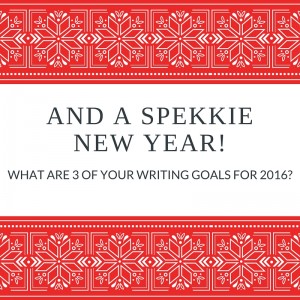 Christmas is over (phooey!), and we turn our attention to the coming year. It's bright, and sparkly, and new. No one has messed it up yet. As we settle down to determine our aspirations and goals, it's nice to see what others have up their sleeves.
I'll be doing a whole set of posts on my goals and all that soon, so I won't give away too much yet. (Sign up for my newsletter so you don't miss the cool stuff I have planned!) I will say that I plan to conquer the small revisions on a couple of manuscripts and then write at least 2 more! And, of course, I continue to hope and pray that my editing business stays consistent (and growing). I love my jobs . . .
But what about other spekkie authors? What are their plans/goals for the New Year? I'm glad you asked . . .
To be more protective of my time.
As a result of being protective of my time, I will grow as a writer by having more time to learn better craft and be a stronger/better writer.
To help others in the writing craft.
To finish my Children of the Blood Moon series—the first book in the series releases in October 2016, to write another novel, and to finish at least one more novella in a themed novella series that I'm starting. I know, pretty hefty goals! *cracks knuckles*
Writing goals for 2016:
Get published!
Submit more short stories, flash fiction, and articles.
Finish books 2.5, and 3!
My goals as an author for 2016 are mainly to keep producing great novels. I've got three novels that should be published in 2016, and my intention is to get three more ready for 2017. But goals need to stretch us. So one goal is continuing to write. A second goal is to take time to enjoy what I'm writing. I get really focused on what I'm doing most of the time, and pretty soon I lose the joy of storytelling. So in 2016, I want to slow down and really remember how to love the art of writing. And a third goal is to do a better job of worshipping God through my writing. Too often, writing is just something I do. I don't think about it. I just do it. I want to continue to write, but I want to consciously thank the Lord for the ability to write. I don't want to take it for granted, and I want to make sure that He gets the glory for everything I do. Writing isn't hard for me. It's remembering why I write that will stretch me in 2016.
Do more marketing for the books I already have out. The first 3 came out while I was still teaching or eyeball deep in my Master's so I didn't do much with them. The 4th is coming out soon, and I have plans with Tomorrow Comes Media to do some interesting stuff.
Write a novel, at least the draft of it. The idea for the sequel to Lines of Succession has been bouncing around in my brain.
Since a serial didn't go over real well on my blog, try flash or short fiction next.
Self-publish a short-story collection, finish editing my debut novel, and have at least one short story published in an anthology.
Finish up revisions on my manuscript Runaway, finish up my novel Thorn (first of four books), and read more craft books to continue honing my writing!
Write the first draft of my next two new book ideas in a NaNoWriMo-type flash (aka: one month each.)
Lighten my editing commitments so I can write more.
Mentor new writers as they start the journey of editing and pitching and freaking out. 😉 I'm very passionate about this one.
Goodness! I have so many, but I'll pick just three.  I want to finish my extended version of my steampunk fantasy novel Red Hood, write the first draft of the sequel of the aforementioned novel called Silver Hood, and edit the first book of my science-fiction series Subsapien.
To finish and polish book 2 in my current series, to write book 3 in its entirety, and to decide what series I might want to work on next.
Publish my fantasy series … one way or another.
Finish a trio of science fiction novellas set on Mars. The first appeared in the Medieval Mars Anthology.
Develop a daily practice of writing 500 words (two pages) every morning before I start work.
My three goals for 2016: publish Darkened Hope in the spring, write the third and final book in the Hidden Dagger trilogy, and publish Clans Divided in the fall/winter. Not so sure about that last one. That depends if there is anything to salvage from my attempt to write it during National Novel Writing Month. We shall see.
Read at least 12 (writing) craft books and 12 new-to-me novels. Both will help me be a better author.
Finish Book One of the Vanguard Saga AND submit six short stories/flash fiction pieces to various places.
Write 2 blogs a month.
I want to finish the revisions on my fantasy novel, Fairyeater.
As of Jan. 1st, 2016, I'll be the editorial director for Bread & Jam Books (part of Fruitbearer Publishing), so I'll be focused on learning that job and taking submissions.
Getting my costume ready for Realm Makers, of course!!  😀
Finish three novels and one kids book.
Edit my critique group's collaborative novel so it's ready for shopping around for publication.
This is pseudo-writing-related, but I need to book a minimum of one speaking engagement per month separate from conferences so I can build my platform and speaking career that way.
Write and self-publish Character-Building From the Inside Out.
Speak/teach at two events.
Finish a fiction manuscript, have it professionally edited, and submit it to two publishing houses.
And now it's YOUR turn! What are 3 of your goals for 2016?