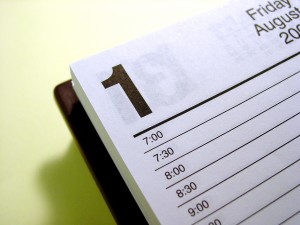 So this post is a few days late, but my recovery from Realm Makers and my crazy week prevented the post from coming out any sooner than, well, today!
I didn't do a goals post in July, so I don't really have anything to follow up on. I did manage to get everything I wanted done in July done, except for finishing an edit on my own story. I'm okay with that, though, because I still pitched it at Realm Makers and got a request for a full!
Back to August–and my quest for world domination. Actually, this month, I'll settle for dominating my to-do list. It's kicking my rear!
So, here are my goals for August:
I need get a jumpstart on my revision of Dividing Spirits, which is now being aptly retitled, Soul Seer. I need to get the first 3 chapters polished before ACFW.
Which brings me to my 2nd goal: prepare for ACFW. I have to design a new one sheet for Soul Seer and get all the papers printed out. Yay! Plus, I need a newsletter signup/contest sheet for the freebie table. And I need snacks.
Start on my diet. I've actually already started on this. Yay! My friends Amy and Michele are jumping in on the quest with me to lose weight and get in shape before Realm Makers next year. Plus, there's the being healthy part, which is important too. 😛
Get on a homeschool schedule. Yes, I only have 2 weeks to homeschool before I leave for a week, but I think it's important to get everything together and organized and work the kinks out. That way, AFTER I get back from ACFW, we can jump in to the routine, rather than fumbling about for another few weeks.
And that"s all I'm giving myself this month. I think it's important to focus on a few things at a time. And this is plenty. Especially since there was only 3 weeks between Realm Makers and ACFW.
What are a couple of your goals for August?
Let's keep each other accountable. I'll keep a list of those who respond, and we'll all check in the beginning of September! Sign up for my blog/newsletter so you can check back in with us!