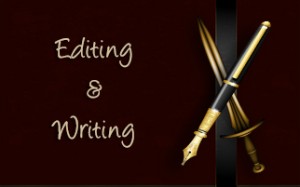 Making your next project
S.H.I.N.E!
Welcome to my editing services page! Thanks for stopping by. While I specialize in editing speculative fiction (fantasy, paranormal, sci-fi), I enjoy different genres and even different types of media. (I've always been a pretty eclectic person.)
Items to note:
I'm pretty flexible about payment plans, so don't let price ranges scare you. Just know that some money will be due in advance.
We can always break up the work, with a portion of the total due before each section.
For all services, I am willing to edit e-files as well as hard copy. If you want the work done on computer, I will be using Microsoft Word's Track Changes feature.
I offer a free 3-page sample edit so that we can both determine if I am the right editor for the job. You can e-mail me at raleneburke [at] gmail [dot] com to request a sample. More information on what to send at the bottom of the page!
EDITING SERVICES
Fab 50: $125
At HALF the actual cost, this service is a great way for writers to get their feet wet and get a sample of what major issues pop up in the first 50 pages of their story. This option is perfect for writers who can't afford a full edit right away.
Proofreading: $1.50/pg.
A final read through for a manuscript about to go to an editor, agent, or publisher. Manuscript will be scrutinized for grammar, punctuation, formatting and typographical errors.
Copyediting: $3/pg.
A line-by-line review of the manuscript. Checks for punctuation, grammar, formatting, typographical errors, redundancies, sentence clarity, word choice, and flags names, titles and quotes the author needs to check for accuracy. For fiction writers, it also checks for inconsistencies in point of view, tense, and other details.
Substantive Editing: $5/pg.
In addition to the basic copyedit, this edit checks content, audience appropriateness, clarity, and inconsistencies, all while maintaining the author's tone/voice. For fiction writers, this would also include dialogue, character and plot development, setting, lack of conflict, and descriptions.
Mentorship available: If you're thinking that a full edit will cost too much or if you think a full manuscript edit would be overwhelming, this option allows you to send me a set number of pages/chapters at a time. You pay for the number of pages you send. When you get those back, you are then able to apply corrections to the next chapter before you send it in.
Content Writing/Editing for websites: $30/hour
We will work together to brainstorm such things as audience, brand, etc. and develop content that will bring those decisions to life. If you already have content, I will use the brainstormed information to ensure that the content fits the new direction.
WHAT OTHERS ARE SAYING:
"I LOVED working with Ralene! Most writers cringe when it's time to send in their manuscripts for editing, but Ralene is such a pleasure to work with. I'm not just another writer or project to her. She genuinely cares about the outcome of my story, and that shows through with her editing. Her opinions are honest and insightful, but presented in a way that lifts you up, instead of tear you down. She will definitely be a go-to editor on my team." –Desiree Williams, author of Heart Song Trilogy
"Working with Ralene has been a great experience. She brought out the best in my writing, helping my manuscript to shine! I've been able to apply the lessons learned to my subsequent work. She's a pleasure to work with and is courteous and professional." -Darlene Turner, ACFW Genesis Finalist 2016
"Ralene has been my second eyes since I started writing.  I tremble at the thought of showing anything to my agent or editor without Ralene having had an editing go at it first!" –Alex Lidell, author of The Cadet of Tildor
CONTACT ME:
If you are interested in my services, you may e-mail me at raleneburke [at] gmail [dot] com.
Please include the following information in your e-mail: name, genre, word count/page count, the type of edit you are looking for, deadline (if any), and the first 3 pages of your manuscript (for books).
I will take a look at the overall proposed project, edit the three pages, and then send the particulars to you.
If we both feel I am a good fit for the project, and we both agree on the terms, then we will proceed from there.